August 20th, 2019
G Hughes, DMD
In 2009, the National Football League (NFL) instituted its concussion protocol [11] . Since then, researchers have invested countless hours conducting neurologic studies. These studies have made the public more aware of the long-term consequences associated with head trauma and have influenced the NFL to update the concussion protocol with the aim to help protect its athletes from long-term head injuries. Although the vast majority of us will never become professionals in a contact sport, athletes playing at the amateur level (childhood, through adolescence, and into adulthood) are also susceptible to cranial (head), facial, and oral (mouth) injuries.
Fiscally, orofacial (mouth and face) injuries from sports-related activities are estimated to cost ~$1.8 billion each year [1] ... And, the most common orofacial injuries from athletics are those involving the teeth! In fact, a 1995 study showed that over 5 million teeth are avulsed (dislodged from their bony housing) annually [6,12] . From an emotional standpoint, orofacial and dental injuries can cause problems that money alone cannot fix. Statistically, published results have shown that up to one-third (~33%) of dental-related injuries will occur during sporting events [1,4] , and it is estimated that athletes neglecting to wear a mouthguard are ~60 times more likely to sustain a dental-related injury [10,12] . These numbers may make you question if you should even consider playing...but remember there are countless athletes among us who will (at some point during life) play for the love of the game!
While some athletes may opt to not participate in contact sports, those of us who choose to play should (at a minimum) know which options are available to help minimize the risks of head, face, and mouth-related injuries. To summarize (or to put it in a nutshell)... The best preventive habit, to minimize the risk of head- & mouth-related injuries, is to wear properly fitting athletic equipment! A well-fitted helmet protects the head and brain, a facemask protects the facial structures (eyes, nose, jaw, and skin), and a mouthguard SHOULD protect the teeth and gums [4] . The NFHS (the equivalent to the NCAA for high school athletics) mandates that players be equipped with proper protective equipment. Sizing guides and salespeople are available to inform players about which helmets best suit their needs; however, less information is readily available regarding mouthguards. So which mouthguard is the right choice for you?
That answer is contingent upon your age, dental development, and desired level of protection. Currently, the available mouthguard options are categorized into three (3) main types: stock, self-adapting (aka "boil & bite), and custom-made [1,4,7] . While, the NFHS mouthguard requirement does not dictate which type of mouthguard an athlete must use, the organization does mandate that it be a visible color (other than white). So unless you are a wrestler, a clear mouthguard does NOT meet NFHS requirements and a white colored mouthguard is not permissible for any NFHS sanctioned sport [8] . Club sports often use a high school's name, but may have different interpretations of the rules so inquire with your organization on its particular mouthguard rules.
Types of Mouthguards Available
Stock Mouthguards
Stock mouthguards can be purchased at sporting goods stores usually for < $25 and are available in standard sizes (small, medium, large), Athletes MUST retain this style in the mouth by biting into its rubbery material. Due to the fact this style guard is prefabricated, they cannot be altered to better fit your mouth. While they may be the most attractive to your pocketbook, their inexpensive price tag offers the least amount of protection. However, this style is often the most comfortable fit for athletes undergoing orthodontic treatment because the mouthguard will fit over braces.
Self-adapting (aka "Boil & Bite) Mouthguards
Another frequently purchased mouthguard style are those that have self-adapting capabilities (commonly referred to as "boil & bite" mouthguards). They are prefabricated by the manufacturer, but the special rubber material composition allows their shape to be altered to better fit your mouth. This style can be purchased in many sporting goods stores or online (typically for less than $50). While this mouthguard is not the ideal option for athletes who have completed their dental growth, they may offer the most economical option for elementary-school and middle school athletes as they often have a mixture of primary ("baby") & secondary ("adult") teeth.Like stock guards, "boil & bite" mouthguards are retained in the mouth by occlusal (biting) pressure from the user. Newer versions of self-adapting mouthguards are available in flavors and some even offer a limited dental warranty of over $30,000 [2] Always review the fine print if a warranty is offered because several exclusions will apply including, but not limited to:
teeth with pre-existing dental work
mouthguards that are not properly formed to the user's mouth
the injury must occur during a coach- or official-supervised sporting activity and be properly documented.
Custom Mouthguards
Lastly, there are custom-made mouthguards that are best suited for athletes who are involved in contact sports, have lost all of their baby (primary) teeth, and have completed any orthodontic treatment. When compared to the other options, a custom guard will carry the largest price tag, but in exchange offers the best protection and most comfortable fit in the mouth. The term "custom mouthguard" originates from the process by which it is fabricated. An impression is made of the user's mouth and a cast is poured to replicate the mouth's anatomy. Next, specialized dental equipment is used to adapt the mouthguard's thermoplastic material to the replica cast. These steps are critical to allow the mouthguard to specifically and comfortably fit your mouth. Unlike the other types, a custom mouthguard is retained by the shape of the teeth which allows athletes to speak with it in place. This style is popular and recommended for those playing football (especially quarterbacks), hockey, rugby, softball, lacrosse, and basketball. You can frequently see professional athletes (NFL, NBA, NHL) inserting and removing this style of mouthguard during stoppages of play.
Mouthguard styles are a personal choice, what is preferred by one player may not be the
preference of another player. The information above is intended to help you make an educated decision. Although the research does not demonstrate that a mouthguard will prevent concussions [3] , research does show their ability to reduce the severity of an orofacial injury [9,12] . Remember, the American Dental Association (ADA), several dental specialty organizations, and athletic governing bodies ALL support the use of a mouthguard to protect YOUR oral health. Which mouthguard is right for you?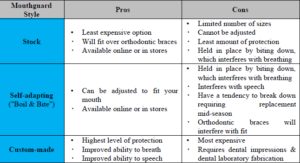 Fitting a Self-adapting ("boil & bite") Mouthguard
Since the majority of us will use a "boil & bite" style guard, it is important to know how to properly mold one to your mouth. Each manufacturer will have its own specific guidelines that should be followed to properly fit their product to your mouth. The general formula is as follows [5] :
(1) Bring a container of water to a boil (either via stove top or microwave).
(2) To avoid injury, allow the water to cool for ~30 seconds and then submerge the mouthguard in the water for ~60-90 seconds.
*** Many mouthguard's have an ethylene-vinyl acetate (EVA) composition, so this step is needed to soften the material
(3) After ~60-90 seconds, remove the mouthguard from the container of water with a spoon (preferably slotted) to prevent scalding your hand
(4) Quickly apply tap water (~2 seconds) to cool the exterior surface.
*** This step will prevent you from burning your lips & mouths
(5) Use a mirror to help insert the guard into your mouth & make sure it is centered.
(6) Use your thumbs to compress the material onto your back teeth and then work forward.
(7) Bring your lower jaw up into contact with the material & simultaneously use your fingers to mold the guard against the sides of the upper teeth & gums for ~ 30secs.
(8) Remove the guard & rinse under cool water to allow the material to fully set.
(9) Check the guard for proper fit. If changes are required, repeat steps 1-8.
Works Cited
1) Altschuler C. "Sporting mouthguards." AGD Impact 2014 Aug;42(8):20-25.
2) Bite Tech Custom Dental Warranty. Under Armour. revised Aug 2015. <https://www.bitetech.com/wp-content/uploads/Bite-Tech-Custom-Dental-Warranty-AUG-2014.pdf>
3) Daneshvar DH, Baugh CM, Nowinski CJ, McKee AC, Stern RA, Cantu RC. "Helmets and Mouth Guards: The Role of Personal Equipment in Preventing Sport-Related Concussions." Clin Sports Med . 2011 Jan;30(1):145–163.
4) Giglio G. "Mouthguard Use in Sports." ACP position statement 2015.
5) Gel Max and Gel Max Lip guard fitting instructions. Shock Doctor. 2008. <https://www.shockdoctor.com/media/pdfs/mouthguards/fitguides/SD_GelMax_GelMaxLipGuard_FitGuide.pdf>
6) Gutmann JL, Gutmann MS. "Cause, incidence, and prevention of trauma to teeth". Dent ClinNorth Am . 1995;39:1-13
7) Mantri SS, Mantri SP, Deogade S, Bhasin AS. "Intra-oral mouth-guard in sports relatedoro-facial injuries: Prevention is better than cure!" J Clin Diag Res 2014 Jan;8(1):299302.
8) Position statement and recommendations for mouthguard use in sports. Sports Medicine Advisory Committee. National Federation of State High School Associations. 2014 Oct. <https://www.nfhs.org/media/1014750/mouthguard-nfhs-smac-position-statement-october-2014.pdf>
9) Ramagoni NK, Singamaneni VK, Rao SR, Karthikeyan J. "Sports dentistry: A review." IntSoc Prev Community Dent. 2014 Dec; 4(Suppl 3): S139–S146.
10) Sports Dentistry Facts. National Youth Sports Foundation for Safety fact sheet. <http://www.qualitydentistry.com/dental/sdentistry/s-dent.html>.
11) Stites, Adam. "How Does the NFL's Concussion Protocol Work?" SBNation.com , 18 Sept. 2016, www.sbnation.com/nfl/2016/9/18/12940926/nfl-concussion-protocol-explained.
12) Vastardis. "Athletic Mouthguards: Indications, Types, and Benefits." Dent Today 2005;21(12):52-55.